At the Roof Guy, the safety and health of our team and customers are of paramount concern. We have implemented an internal cleaning procedure for the protection of our employees.
We are currently following, and will continue to follow, the advice and guidelines of the CDC and other local and national health agencies as it relates to COVID19.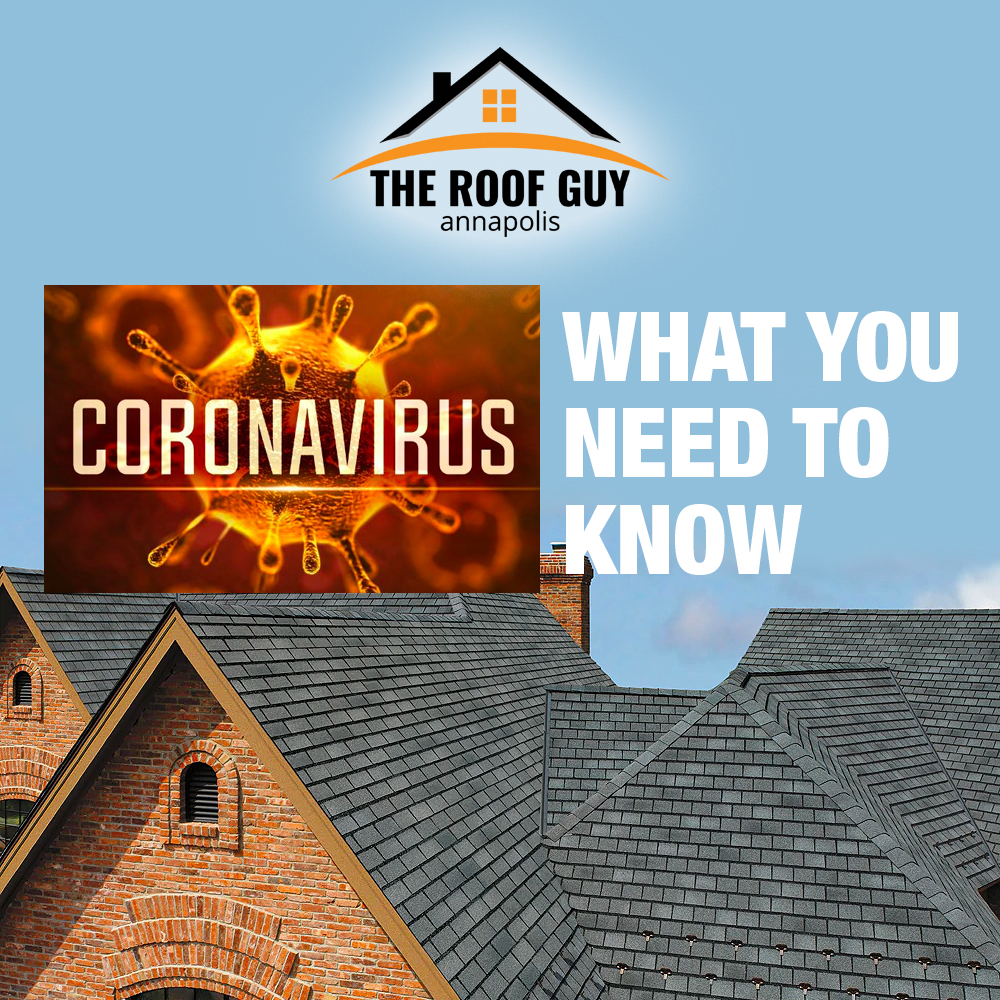 We are extremely aware of the concerns of people throughout the world, as well as here in Annapolis. It is important that our clients understand that we are taking serious precautions to avoid any possible dangers, but also are able to continue working within safe limitations to provide the same quality services that we have for years. We have also provided guidelines to our company personal, encouraging safe social distancing and procedures for prevention of the spread of Coronavirus.
Safety Measures During the Coronavirus Outbreak
Paperless Transactions – We have prepared an entirely paperless format to ensure zero to low contact during roof inspections, meetings with adjusters, and the actual roofing job itself.

Physical Social Distancing – Since work is mostly done outside your home, you don't have to worry about running into any of our crew throughout the job.

Compliance With CDC Recommendations – We will never risk our customers' or employees' health or safety. The Roof Guy strictly follows the protocols recommended by the CDC. We encourage sick employees to stay at home, and we also perform routine cleaning and disinfection of our tools, work attire, and other equipment and gear.
Although most repair and diagnostic work is done outside of the home, we are utilizing technology to provide our customers a safe and healthy experience. Site visits can be performed outside the home. Satellite imagery can be used for job site layout and measurements, while various methods of communication (ie. cell phones and live video chat) can be used perform full consultations without the need for in-person meetings. In addition, all work agreements and transactions can be finalized using our paperless documents and electronic signatures.
Reasons Why You Should Not Delay Roof Repairs
While it's important to prioritize your health amid the COVID-19 outbreak, it's important to note that your home should be in good shape, as well, to keep you healthy while you are inside your home. Ensuring that your home is sound and comfortable can make a big difference in encouraging you to stay at home during this critical period. That said, any damage to your roofing is a matter that cannot wait, so having it fixed as soon as you can is advisable.This is equally important for both major and minor roof problems. Serious damage to your roof can cause immediate concerns, while minor ones like small leaks can turn into bigger problems and lead to more extensive damage.For example, non-stop exposure to moisture (such as with leaks) can make your home susceptible to mold growth. It can also affect the air quality inside your home.

Apart from potentially damaging your home, mold can also have an impact on your health, especially if you have allergies or respiratory conditions like asthma. Needless to say, now more than ever, it is crucial to stay healthy and to protect yourself and your family from such risks.

We look forward to helping all of our current and future clients through this unprecedented time.

Thank you for choosing The Roof Guy

Got Roofing Questions? Call THE ROOF GUY TODAYTo learn more about our services and the steps we are taking to carry out roof work safely, call us at 410.570.4956 or fill out our contact form (live link here to website) We serve homeowners in Annapolis, MD and the surrounding areas.